1
ZEPAR TABLETS
(ALBENDAZOLE)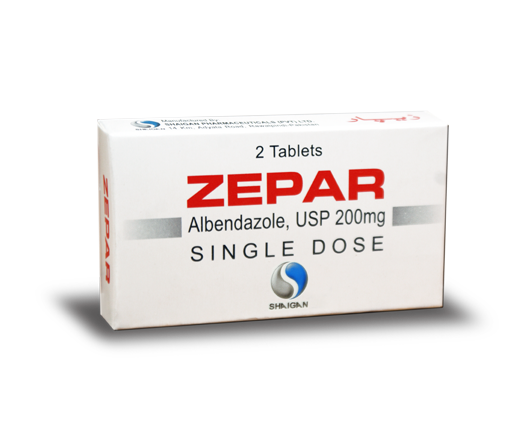 COMPOSITION:
Each film coated tablet contains:
Albendazole,.… 200mg
INDICATIONS:
Zepar is indicated for the treatment of single or mixed infestations of intestinal parasites. Clinical studies have shown albendazole to be effective in the treatment of ascaris lumbricoides (round worm), Trichuris trichiura (whip worm), Enterobius vermicularis (pin worm), Ancylostoma duodenale and necator americanus (hock worm) and taenia spp. (tape worm), Strongyloides stercoralis (thread worm) and Opisthorchis viverrini and Opisthorchis sinensis.
PRESENTATION:
Available in pack of 2 tablets