1
XELL-20 TABLETS
(ROSUVASTATIN)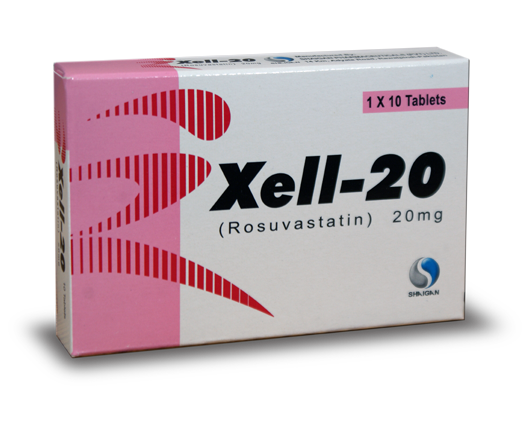 COMPOSITION:
Each film coated tablet contains:
Rosuvastatin (as Calcium)… 20mg
INDICATIONS:
XELL (Rosuvastatin) is indicated for the treatment of
As an adjunctive therapy to diet to reduce elevated total-C, LDL-C, ApoB, non HDL-C, and TG levels and to increase HDL-C in patients with primary hypercholesterolemia (heterozygous familial and non-familial) and mixed dyslipidemia (Fredrickson Type Il-a and lI-b).
As an adjunct to diet for the treatment of patients with elevated serum TG levels (Fredrickson Type IV).
To reduce LDL-C, total-C and ApoB in patients with homozygous familial hypercholesterolemia as an adjunct to other lipid-lowering treatments (e.g. LDL apheresis) or if such treatments are unavailable.
As an adjunct to diet to slow the progression of atherosclerosis as part of treatment strategy to lower Total-C and LDL-C in adult patients to target levels.
As part of preventive strategy to reduce major cardiovascular events in patients who are estimated to have a high risk of first cardiovascular event.
PRESENTATION:
Available in pack of 1 x 10 tablets