1
VYBER-40 INJECTION
(OMEPRAZOLE)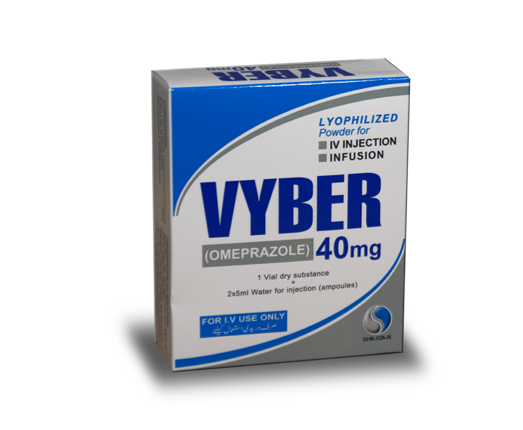 COMPOSITION:
Each vial contains:
Lyophilized Omeprazole Sodium eq. to Omeprazole … 40mg
INDICATIONS:
VYBER IV should be administered intravenously only either as an infusion or injection and should not be given by any other route. VYBER (Omeprazole) IV is indicated for patients who are unable to take oral therapy for the short-term (up to 5 days) treatment of:
Gastro esophageal reflux disease.
Peptic ulcer disease.
Treatment and prophylaxis of NSAID-associated ulceration\
Duodenal ulcer.
Zollinger-Ellison syndrome.
Prophylaxis of acid aspiration.
PRESENTATION:
Available as 1 vial with sterile 2 x 5ml water for injection ampoules.