1
URICON-100
(FLOVOXATE HCL)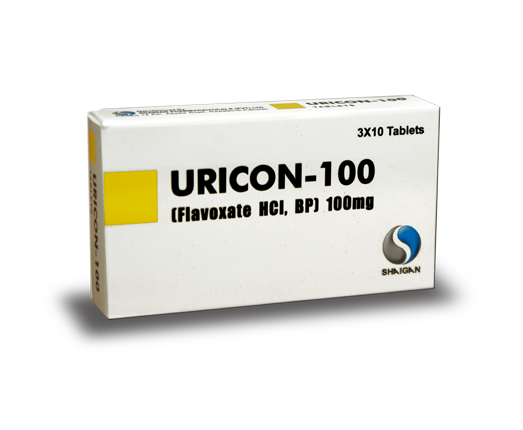 COMPOSITION
Tablet:
• Each film coated tablet of Uricon 100 contains 100mg of flavoxate HCL…..100mg.
INDICATIONS
• Treatment of Spastic states in female genital tract, such as pelvic algias, dysmenorrhoea, uterine hypertonia and dyskinesia.
• Treatment of dysuria, urgency, nocturia, suprapubic pain, frequency and incontinence in vesical and prostatic affections, such as cystitis, cystalgi, prostatitis, urethritis, urethrocystitis, urethrotrigonitis.
• As an adjuvant in the antispasmodic treatment of renal and urethral lithiasis and urinary spastic disorders caused by catheterization and cystoscopy. Sequelae of surgery on the lower urinary tract.
PRESENTATIONS
Tablet:
• Uricon 100 Blister Pack of 3*10 Tablets