1
RUWIN-200 Dry SUSPENSION
(CEFEXIME)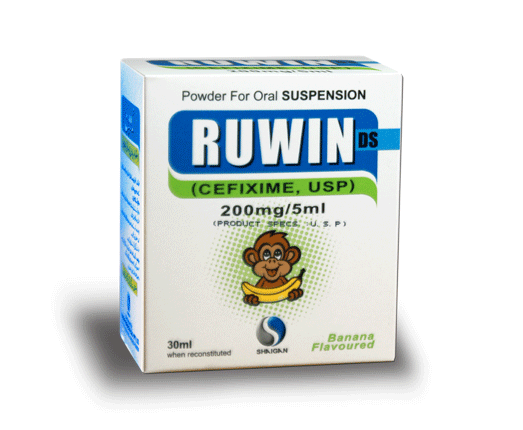 COMPOSITION:
Each reconstituted 5ml contains:
Cefixime                      …… 200mg
INDICATIONS:
RUWIN is indicated for the treatment of the following infections caused by the micro-organisms susceptible to RUWIN.
INFECTIONS:
A. Respiratory Tract Infections
Infections of the upper and lower airways
Pulmonary infections of bacterial etiology
Bronchitis (acute & chronic)
Pneumonia
Bronchiectasis with infection
Secondary infections in chronic respiratory disease.
B. Ear, Nose and Throat Infections
Otitis media
Sinusitis
Tonsillitis
Pharyngitis
Laryngitis
C. Gastrointestinal Infection
D. Urinary Tract Infections
Infections of the kidneys and efferent urinary tract
Uncomplicated urinary tract infection
Complicated and uncomplicated urinary tract Infections except for prostatitis
Pyelonephritis
Cystitis
E. Biliary Tract Infections
Infections of the biliary tract
Cholecystitis
Cholangitis
PRESENTATION:
Powder for oral suspension (Banana flavored) is available in 30ml plastic bottle.