1
PEPZYM TABLETS
(METOCLOPRAMIDE HCl +SIMETHICONE +SODIUM DEHYDROCHOLATE +BROMELAIN +PANCREATIN)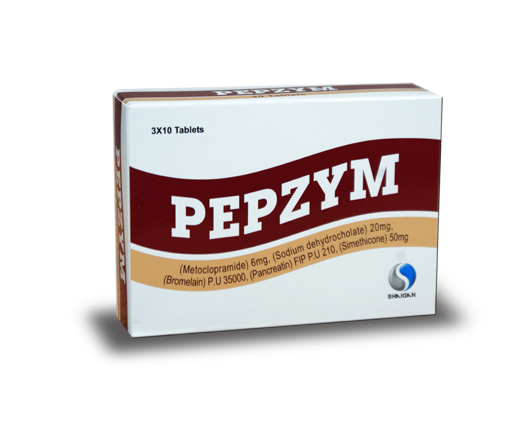 COMPOSITION:
Each film coated tablet contains:
Metoclopramide HCl… 6mg
Sodium dehydrocholate… 20mg
Bromelain P.U… 35000
Simethicone… 50mg
Pancreatin FIP P.U…. 210
INDICATIONS:
PEPZYM is indicated in all dyspepsia dependent on motility and secretory disorders.
PEPZYM eliminates epigastric discomfort, post-prandial headache; feeling of fullness and abdominal distension, heartburns, belching, nausea and flatulence.
PRESENTATION:
Available in pack of 3 x 10 tablets