1
MESAN CHEWABLE TABLETS
(NICLOSAMIDE)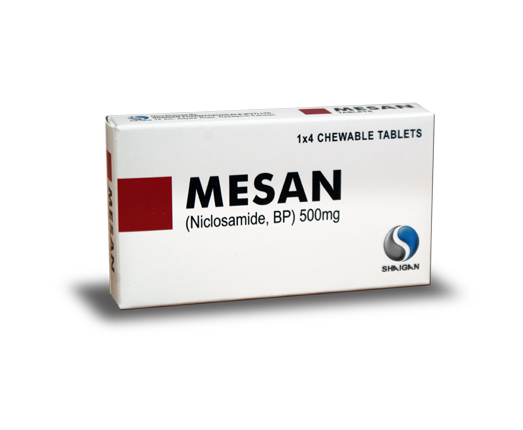 COMPOSITION:
Each tablet contains:
Niclosamide … 500mg
INDICATIONS:
Mesan is indicated in Infections with
Taenia saginata (beef tapeworm)
Taenia solium (pork tapeworm)
Diphyllobothrium latum (fish tapeworm)
Hymenolepis nana (dwarf tapeworm)
MESAN expels the cestodes from the intestine only. It is not absorbed in chemotherapeutically active amounts. No effect can therefore be expected in cysticercosis and echinococcosis due to cestode larvae (cysticerci) lodging in extraintestinal tissues.
PRESENTATION:
Available in pack of 1 x 4 tablets