1
JOVIT TABLETS
(GLUCOSAMINE SULPHATE + CHONDROITIN SULPHATE)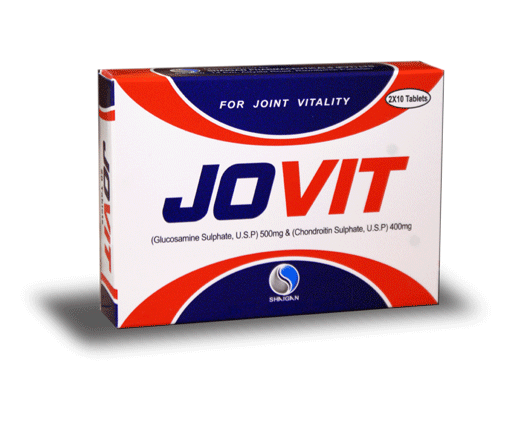 COMPOSITION:
Each tablet contains:
Glucosamine Sulphate … 500mg
Chondroitin Sulphate….. 400mg
INDICATIONS:
Relief of osteoarthritis. Other recommended uses are for tendonitis and bursitis. Glucosamine decreases pain and improves mobility in people suffering from osteoarthritis, a progressive disease of cartilage degeneration. It supports healthy joint and connective tissue. It has been suggested, by some sources, that it may even prevent or postpone the development of osteoarthritis in certain groups, such as the elderly and the athletes.
PRESENTATION:
Available in a blister pack of 2 x 10