1
GLYKIN-250
(AMIKACIN)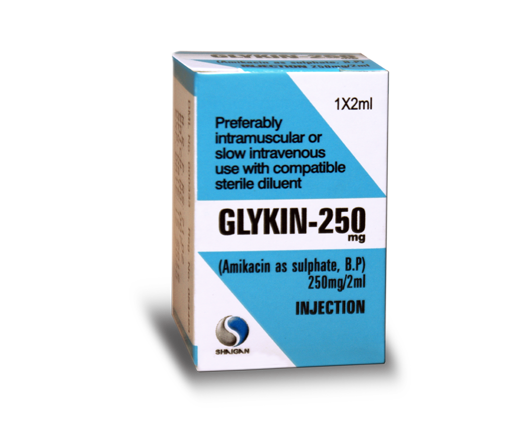 COMPOSITION:
It contains Amikacin as sulphate, B.P…250mg/2ml
INDICATIONS:
• GLYKIN is indicated in the short-term treatment of serious infections due to susceptible strains of Gram-negative bacteria, including Pseudomonas species, Escherichia coli, species of indole-positive and indole-negative Proteus, Providencia species, Klebsiella-Enterobacter-Serratia species, and Acinetobacter (Mima-Herellea) species. Clinical studies have shown Amikacin to be effective in bacterial septicemia (including neonatal sepsis); in serious infections of the respiratory tract, bones and joints, central nervous system (including meningitis) and skin and soft tissue; intra-abdominal infections (including peritonitis); and in burns and post-operative infections (including post-vascular surgery).
PRESENTATIONS:
• GLYKIN 250 Injection: Available in vial packed in cardboard unit carton.