1
ERAZE 20 TABLETS
(RABEPRAZOLE)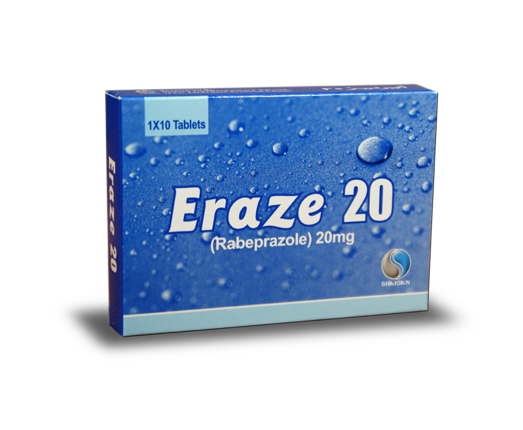 COMPOSITION:
Each enteric coated tablet contains:
Rabeprazole (as Sodium) … 20mg
INDICATIONS:
Gastro Esophageal Reflux Disease (GERD)
Eraze is indicated for short-term (4 to 8 weeks) treatment in the healing and symptomatic relief of erosive or ulcerative gastroesophageal reflux disease (GERD). For those patients who have not healed after 8 weeks of treatment, an additional 8 weeks course of Eraze may be considered. Eraze is indicated for maintaining healing and reduction in relapse rates of heartburn symptoms in patients with erosive or ulcerative gastro esophageal reflux disease (GERD maintenance).
Helicobacter pylori Eradication to Reduce the Risk of Duodenal Ulcer Recurrence
Rabeprazole in combination with amoxicillin and clarithromycin as a three drug regimen is indicated for the treatment of patients with H. pylori infection and duodenal ulcer disease (active or history within the past 5 years) to eradicate H. Pylori. Eradication of H. Pylori has been shown to reduce the risk of duodenal ulcer recurrence. In patients who fail therapy, susceptibility testing should be done. If resistance to clarithromycin is demonstrated or susceptibility testing is not possible, alternative antimicrobial therapy should be instituted.
Duodenal Ulcers
Eraze is indicated for short-term (up to 4 weeks) treatment in the healing and symptomatic relief of duodenal ulcers. Most patients heal within 4 weeks.
Pathological Hypersecretory Conditions, Including Zollinger-Ellison Syndrome
Eraze is indicated for the long-term treatment of pathological hypersecretory conditions including Zollinger-Ellison syndrome.
PRESENTATION:
Available in pack of 1 x 10 tablets