1
DEEZON PLUS 1G INJECTION
(CEFOPERAZONE +SULBACTAM)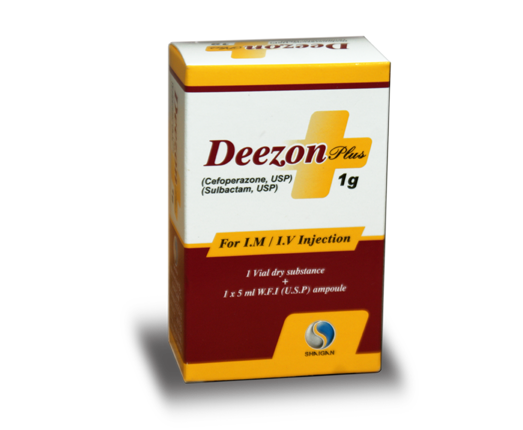 COMPOSITION:
Each vial dry substance contains:
Cefoperazone Sodium eq. to Cefoperazone… 500mg
Sulbactam Sodium eq. to Sulbactam … 500mg
INDICATIONS:
Mono-therapy: Sulbactam / Cefoperazone are indicated for the treatment of the following infections when caused by susceptible organisms:
Respiratory tract infections (Upper and Lower)
Urinary tract infections (Upper and Lower)
Peritonitis, Cholecystitis, Cholangitis, and other Intra-Abdominal Infections,
Septicemia
Meningitis
Skin and Soft Tissue Infections
Bone and Joint Infections
Pelvic Inflammatory Disease, Endometritis, Gonorrhea and other infections of the Genital Tract.
PRESENTATION:
Box containing 1 vial of Deezon Plus 1g+ solvent ampoule (water for injection 1x5ml)