1
CLIVER-1000 INJECTION
(CEFOTAXIME SODIUM)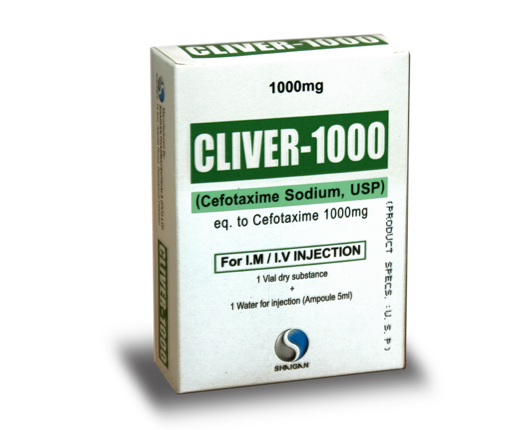 COMPOSITION:
Each vial dry substance contains:
Cefotaxime Sodium eq. to Cefotaxime……1000mg
INDICATIONS:
Severe infections caused by Cefotaxime-susceptible pathogens:
Infections
of the respiratory tract, including nose and throat,
of the ear,
of the kidneys and urinary tract,
of the skin and soft tissues,
of the bones and joints,
of the genital organs, including gonorrhea
of the abdominal region
Sepsis, endocarditis, meningitis; for preoperative prophylaxis in patients who are at increased risk from infection, and for the prophylaxis of infections in patients with reduced resistance.
Cefotaxime is generally, effective against the following pathogens:
Staphylococci aerobic and anaerobic streptococci, Streptococcus pneumonia, Neisseria spp., Haemophilus influenza, Escherichia coli, Citrobacter spp., Salmonella spp. Klebsiella spp., Enterobacter aerogenes, Serratia spp., indole-positive and indole negative Proteus spp., Yersinia enterocolitica, Clostridium spp., and Bacteroides spp.
Pathogens with varying susceptibility are: Streptococcus faecalis, Enterobacter cloacae, Pseudomonas aeruginosa and Bacteroides fragilis.
There is not yet sufficient clinical experience with Salmonella typhi and paratyphi A and B infections.
Cefotaxime is not effective against Treponema pallidium and Clostridium difficile.
PRESENTATION:
Available as 1 Vial Dry Substance with 1 Ampoule (5 ml)