1
CELTIS-1000 I.V INJECTION
(CEFTRIAXONE)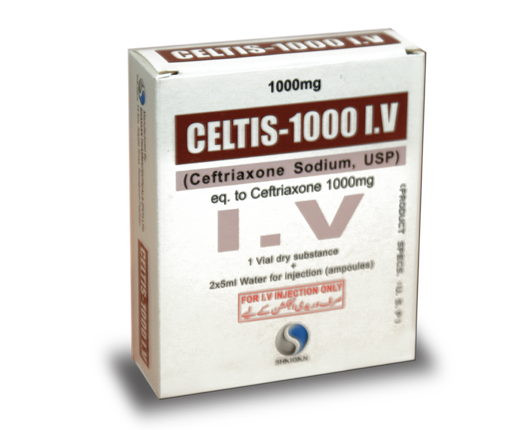 COMPOSITION:
Each vial dry substance contains:
Ceftriaxone sodium eq. to ceftriaxone …1000mg
INDICATIONS:
Infections caused by pathogens sensitive to CELTIS (Ceftriaxone), e.g:
Sepsis;
Meningitis;
Abdominal infections (peritonitis, infections of the biliary and gastrointestinal tract);
Infections of the bones, joints, soft tissue, skin and of wounds,
Infections in patients with impaired defense mechanisms;
Renal and urinary tract infections;
Respiratory tract infections, particularly pneumonia,
Ear, nose and throat infections;
Genital infections, including gonorrhea.
Perioperative prophylaxis of infections.
PRESENTATION:
Box containing 1 vial of CELTIS-1000 I.V + solvent ampoule (water for injection 10ml)