1
CEFTIZ-500 I.V/I.M
(CEFTAZIDIME)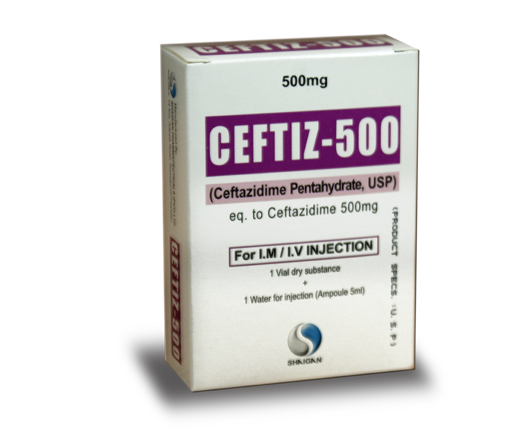 COMPOSITION:
Each vial dry substance contains:
Ceftazidime (as Pentahydrate)… 500mg
INDICATIONS:
Treatment of single or multiple infections cause by susceptible organisms. May be used alone as first choice drug before the results of sensitivity test are available. May be used in combination with an aminoglycoside or most other beta lactam antibiotics, May be used with antibiotics when presence of bacteroides fragilis is suspected,
Indications include:
severe infections e.g. septicemia, bacteraemia, peritonitis, meningitis,
infection in immunosuppressed patients,
infections in patient's intensive care e.g. infected burns.
Respiratory tract infections including lung infections in cystic fibrosis,
Ear, nose and throat infections,
Skin and soft tissue infections,
Gastrointestinal, biliary and abdominal infections,
Bone and joint infections,
Infections associated with hemo and peritoneal dialysis and with continuous ambulatory peritoneal dialysis (CAPD).
Prophylaxis: prostatic surgery (transurethral resection).
PRESENTATIONS:
Box containing 1 vial of CEFTIZ 500 + solvent ampoule (water for injection 5ml) for intramuscular or intravenous use