1
BEXUS 750 TABLETS
(LEVOFLOXACIN)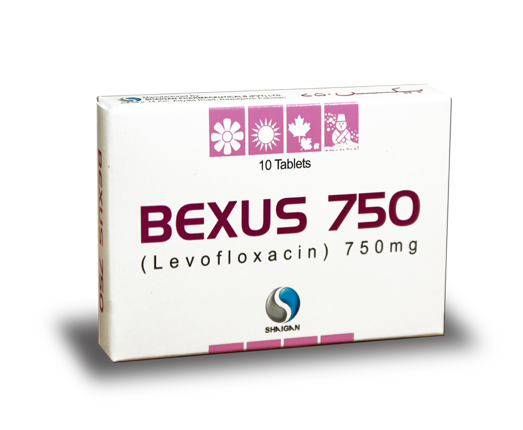 COMPOSITION:
Each film coated tablet contains:
Levofloxacin (as hemihydrate)… 750mg
INDICATIONS:
BEXUS (Levofloxacin) is indicated for the treatment of infections due to susceptible organisms. Such infections include:
Community acquired pneumonia, Severe community acquired pneumonia, Nosocomial pneumonia
Acute bronchitis, chronic bronchitis, diffuse panbronchiolitis, bronchiectasis with infection, secondary infections in chronic respiratory disease.
Typhoid & paratyphoid fevers.
Cholecystitis, cholangitis.
Bacterial dysentery, infectious enteritis, salmonella enteritis, cholera.
Pyelonephritis, cystitis, prostatitis, epididymitis, gonococcal urethritis, non-gonococcal urethritis.
Intrauterine infection, cervicitis, uterine adnexitis, bartholinitis. Folliculitis (including acne pustulosa), furuncle, furunculosis, carbuncle, impetigo contagiosa, hydradenitis, acne conglobata, infectious atheroma, periproctic abscess.
Mastitis, (superficial) secondary infections in traumatic wounds, burns, operative wounds etc.
Blepharitis, hordeolum dacryocystitis, conjunctivitis, tarsadenitis.
Periodontitis, pericoronitis, gnathitis.
PRESENTATION:
Available in pack of 1 x 10 tablets