1
ARTHO 50 TABLETS
(DICLOFENAC SODIUM + MISOPROSTOL)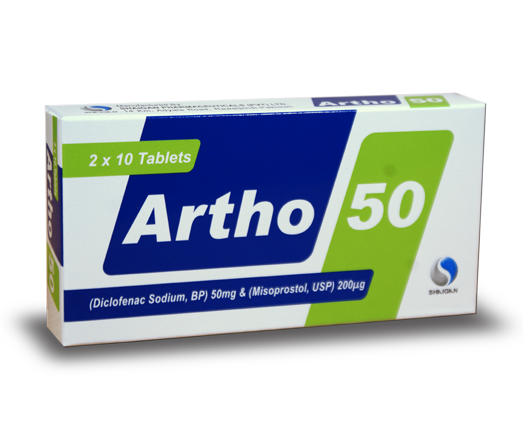 COMPOSITION:
Each tablet contains:
Diclofenac Sodium (enteric coated)… 50mg
Misoprostol… 200µg
INDICATIONS:
Artho is indicated for treatment of the signs and symptoms of osteoarthritis or rheumatoid arthritis with other complaints, like polymyositis, dermatomyositis, dental pain, Temporomandibular joint (TMJ), spondylarthritis, ankylosing spondylitis, gout attacks, and pain management in cases of kidney stones and gallstones. An additional indication is the treatment of acute migraines. Diclofenac sodium is used commonly to treat mild to moderate post-operative or post-traumatic pain, particularly when inflammation is also present, and is effective against menstrual pain and endometriosis. Artho should not be taken by pregnant women.
PRESENTATION:
Available in pack of 2 x 10 tablets