1
ADMIT-50/500
(SITAGLIPTIN+METFORMIN HCL)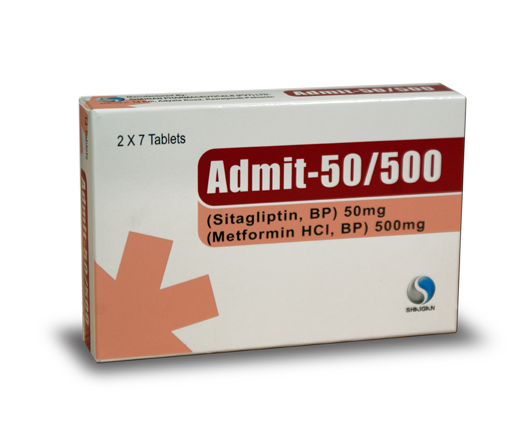 COMPOSITION
Tablet:
Each tablet contains Sitagliptin (as Phosphate Monohydrate),B.P……….. 50mg, Metformin HCL, B.P……500mg
INDICATIONS
• And exercise to improve glycemic control in adults with type 2 diabetes
• Is a dipeptidyl peptidase-4 (DPP-4) inhibitor indicated as an adjunct to diet
• Mellitus inadequately controlled on Metformin or Sitagliptin alone or in patients
• Combination with Insulin and other OADs may be given.
• Already being treated with the combination of Sitagliptin and Metformin.
PRESENTATIONS
Tablet:
• ADMIT 50mg/500mg Available in Alu Alu blister pack of 2×7 film coated tablets.